Exhibitor releases 2016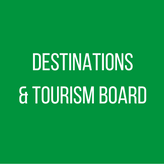 ---
CONSORZIO CENTRO PER LO SVILUPPO DEL TURISMOCULTURALE PER LA SICILIA
PRESENTATA LA GUIDA AI SENTIERI DE

Presentata stamane a Rimini, nel corso di una conferenza stampa alla Fiera del Turismo TTG 2016, nello stand del Messina Tourism Bureau, la guida ufficiale, in Italiano ed Inglese, del progetto "I Cinque Colori" contente i migliori 15 sentieri del territorio messinese.

[continue]
---
EMILIA ROMAGNA REGION - ITALY
EXPERIENCE THE ITALIAN LIFESTYLE ON THE VIA EMILIA

The Via Emilia is the backbone of Emilia Romagna linking the history-packed Piacenza area to the sunny seaside resort of Rimini. TTG Rimini 2016, 13th to 15th October: visit our Stand at Hall C5 !

[continue]
---
ENTE NAZIONALE TURISMO MAROCCO
COP22 IL TEMPO DI AGIRE - COMUNICATO STAMPA ENTE NAZIONALE TURISMO MAROCCO

La 22° sessione della Conferenza delle Parti sui Cambiamenti climatici (COP22) si terrà a Marrakech dal 7 al 18 Novembre. La scelta del Marocco come paese ospitante della conferenza mondiale sul clima è legittimata dalla sua leadership nella lotta ai cambiamenti climatici.

[continue]
---
HOTELS ASCEND, CLARION, QUALITY, COMFORT EUROPE
CHOICE HOTELS EUROPE AT TTG!

Dear all, It will be a great pleasure to welcome you on our stand : corsia 2/3 Stand 038047 Present on the stand as well, hoteliers from top destinations in France and Italy. All European destinations represented by our team. We want to hear from you!


---
TERRE DI CASOLE BIKE HUB
TERRE DI CASOLE BIKE HUB

Casole d'Elsa, a virgin strip of land that welcomes everyone who is looking for a green holiday surrounded by the tuscan heritage of landscape, art, architecture, history, food and wine. Casole d'Elsa is strategically positioned between Siena, San Gimignano, Volterra and San Galgano.


---